Business Opportunities
The Internet is not just about ".coms", it has fundamentally changed the way businesses operate or can operate if they leverage internet for information exchange, value-chain delivery and analysis. The amount of multi-media content generated by the global business community has exploded over the last few years. The ability to manage – and maximize these images – can create a real competitive advantage for a wide-range of vertical applications.
Example: Medical Diagnotics
Medical imaging is critical to patient diagnosis and care across a broad range of health care procedures and disease states. Moreover, an increasing number of medical images are produced in digital format from MRIs and CAT scans. It is estimated that the health care sector spends $70 billion annually conducting radiology studies, of which 10% is spent on storing, handling and transcribing this information.
In addition, the Health Care Financing Administration estimates that approximately 10% ($1 B) of expenditures are incurred due to duplication of missing patient information.


eVe provides an automated and visual content-based method for classification, search and retrieval of radiology assets such as X-Rays, MRI, CAT scans, mammography scans, etc. This capability, combined with the ability to add contextual medical domain knowledge, creates a powerful and objective computer-aided diagnostic solution.
Example: Trademark and Asset Protection
On-line brand counterfeiting, unauthorized use, and the misuse of brands and logos is estimated to cost global corporations $25 to $30 billion a year. Based on the criteria set by the brand owner, eVe enables proactive scouring of the Web or corporate networks to locate and report unauthorized or improper use of popular brand-related visual media (logos, images, videos and graphics) by rogue sites that are potentially diverting eyeballs and revenues.
These are just two examples, eVe's visual search capabilities can add value to vertical applications in a wide range of industries:
art collections and stock photography
video collections and analysis
mechanical parts and equipment
gifts and consumer goods
jewelry & fashion
pornography filtering
geographic and seismic information
It is an opportunity to create commercial applications that can transform the web into a visual society with visual search.
eVe as a Developer Tool for Vertical Markets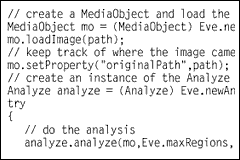 eVe is a set of building blocks that software developers can utilize to develop or extend an application's search and retrieval functionality to include content-based visual asset search and retrieval features.
The eVe SDK is designed to be applied in a range of diverse application domains and systems scenarios. As a result, eVe makes no assumptions about the application or system components in which it may be embedded. There is no dependency on file systems, database interfaces, user interfaces, network interfaces etc. It is a set of Java-based APIs that can be used by the application developer as needed for an application.
eVe distills images into their representative visual characteristics, based on object, color, texture and shape. The algorithms employed automatically segment an image into distinct object regions, and generate scale-independent descriptions of the regions, known as visual signatures. These visual signatures are then organized into a proprietary indexing scheme for super fast retrievals. Once retrieved the results can be displayed in relevance order in relation to the query image.
You can start using eVe by participating in the eVision developer evaluation program. For information on product license for development and implementation please contact bizdev@evisionglobal.com.