Request for the free Gistics Visual Search Report
The Gistics Visual Search Report "Market Requirements for Visual Search", is an independent study that reviews the business case for visual search and the markets to which it applies. Enterprises interested in visual search can reduce the risk of new technology deployments and increase their return on investment by understanding the best practices and applications described in this report.
The Gistics report covers these topics:
What's the current state of the art for text search and how does visual search enhance the ROI of search?
What are the elements of visual search? How does whole and partial image search work?
How does visual search span multiple languages and why is this important?
How does visual search impact specific markets: students, consumer, peer-to-peer communities, e-commerce portals, media archivists, medical, & other verticals.
What kind of productivity gains do media producers realize with visual search?
What is the long-view value of visual search?
How can visual search help the wireless industry?
It also includes easy-to-interpret diagrams and charts.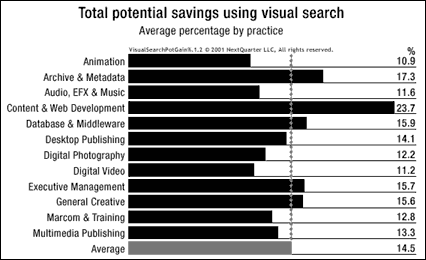 ---
eVision can send you this unique Gistics Business Case Report for free when you complete the following information:
---
If you have any questions, please send email to bizdev@evisionglobal.com